Kenya – the name is almost synonymous with the word "safari". Perhaps no other place on the planet conjures such a spirit of adventure and romance. For first-time visitors, the sheer diversity of things to do is dazzling. Wildlife, of course, is top on the list. Witness throngs of wildebeest thundering across the savanna during the Great Migration in Maasai Mara, come eye-to-eye with an elephant in Amboseli, or marvel at Lake Nakuru flecked with thousands of flamingoes. In these sun-soaked lands, ancient tribes such as the Maasai, Kikuyu, and Samburu retain their traditional customs, living in relative harmony with the natural world.
Beyond the world-famous safari parks lies a trove of coastal treasures. Visitors can snorkel and dive fish-rich coral reefs, relax on pearly beaches, experience the melting pot of cultures and cuisines in Mombasa and Malindi, and explore tropical islands steeped in Swahili history.
Also Read: Why Kenya Is More Famous Than Other African Countries
Topographically, Kenya is stunning. Surrounded by calderas and mountain ranges, the Great Rift Valley divides the country. To the east of this sweeping valley, visitors can climb the snow-cloaked equatorial peaks of Mount Kenya and fish for trout in crystal clear streams. Hell's Gate National Park harbors obsidian caves and hisses with natural geysers and hot springs. To experience the romance of Kenya's colorful colonial history captured in the film Out of Africa, head to Nairobi. This bustling capital is the gateway to one of the world's most evocative and exciting travel destinations.
1 Maasai Mara National Reserve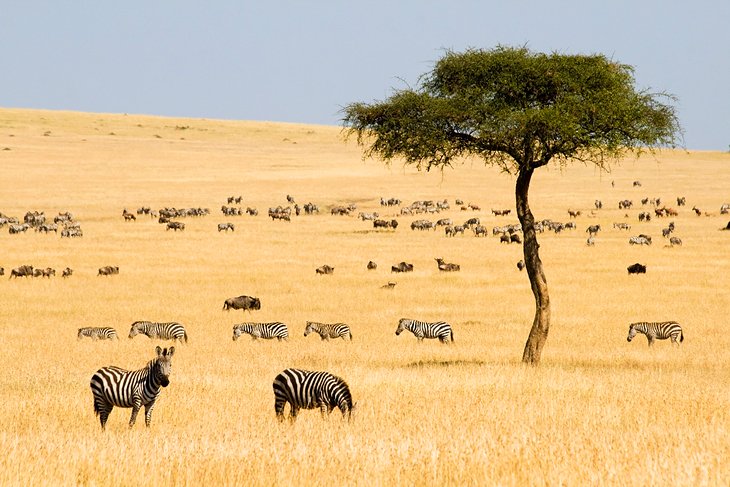 Maasai Mara is one of the world's most magnificent game reserves. BorderingTanzania, the Mara is the northern extension of the Serengeti and forms a wildlife corridor between the two countries. It's named after the statuesque, red-cloaked Maasai people who live in the park and graze their animals here as they have done for centuries. In their language, Mara means "mottled", perhaps a reference to the play of light and shadow from the acacia trees and cloud-studded skies on the vast grasslands.
The park is famous for the Great Migration when thousands of wildebeest, zebra, and Thomson's gazelle travel to and from the Serengeti, from July through October. In theMara River, throngs of hippos and crocodiles lurk. The park is also known for providing excellent predator sightings thanks to its relatively large populations of lion, cheetah, and leopard – especially in the dry months from December through February. Thanks to the parks altitude, the weather here is mild and gentle year round.
Leave Us A Comment
comments